Professional Studies and Alternative Educational Setting
2019-2020
This is the key text for the Professional Studies module and the one we would recommend you purchase. However it is available electronically on this link.

The Teachers' Standards

4 items

Learning to teach in the primary school 2014

Book Core Unit 8.1, The changing role of the teacher, puts the developing role of the teacher in a historical context and begins to explore the Teachers' Standards, which set the minimum requirements for teachers' practice and conduct.

Setting high expectations which inspire, motivate and challenge pupils (Teachers' Standard 1)

2 items

 establish a safe and stimulating environment for pupils, rooted in mutual respect  set goals that stretch and challenge pupils of all backgrounds, abilities and dispositions  demonstrate consistently the positive attitudes, values and behaviour which are expected of pupils.

The teachers' standards in the classroom - Roy Blatchford 2017

Book Core Chapter 1 focuses on TS1 and suggests particular aspects of your practice to invest in as well as an example of good practice in establishing high expectations.

Learning to teach in the primary school 2014

Book Core Unit 3.3, Organising your classroom for learning. Authors generally agree that there is no one way of successfully organising and managing all lessons in a primary classroom. However, there are a number of characteristics that are linked to 'good practice'. Kelly discusses them in this section.

Promoting good progress and outcomes by pupils (Teachers' Standard 2)

6 items

 be accountable for pupils' attainment, progress and outcomes  be aware of pupils' capabilities and their prior knowledge, and plan teaching to build on these  guide pupils to reflect on the progress they have made and their emerging needs  demonstrate knowledge and understanding of how pupils learn and how this impacts on teaching  encourage pupils to take a responsible and conscientious attitude to their own work and study.

Learning to teach in the primary school 2014

Book Core Unit 2.1, Looking at children, focuses on theories of child development, including overviews of the theories of Piaget, Vygotsky, and Bruner. Unit 2.2, Looking at learning, takes a further look at behaviourism, constructivism, and social constructivism, and makes links between the theories and the type of practice you might adopt in the classroom.

Learning theories in childhood - Colette Gray 20151473906466,9781473906464

Book Optional A comprehensive overview of children's learning, with explanations of key behavioural, cognitive and social theories, including the work of Piaget, Vygotsky and Bruner.

Planning and teaching well structured lessons (Teachers' Standard 4)

4 items

 impart knowledge and develop understanding through effective use of lesson time  promote a love of learning and children's intellectual curiosity  set homework and plan other out-of-class activities to consolidate and extend the knowledge and understanding pupils have acquired  reflect systematically on the effectiveness of lessons and approaches to teaching  contribute to the design and provision of an engaging curriculum within the relevant subject area(s).

Adapting teaching to respond to the strengths and needs of all pupils (Teachers' Standard 5)

5 items

 know when and how to differentiate appropriately, using approaches which enable pupils to be taught effectively  have a secure understanding of how a range of factors can inhibit pupils' ability to learn, and how best to overcome these  demonstrate an awareness of the physical, social and intellectual development of children, and know how to adapt teaching to support pupils' education at different stages of development  have a clear understanding of the needs of all pupils, including those with special educational needs; those of high ability; those with English as an additional language; those with disabilities; and be able to use and evaluate distinctive teaching approaches to engage and support them.

Learning to teach in the primary school 2014

Book Core Section 6, Diversity and inclusion, explores differentiation and diversity, and includes units on provision for children with special educational needs (6.3), responding to gender differences (6.5), and responding to linguistic diversity (6.6).

Making accurate and productive use of assessment (Teachers' Standard 6)

5 items

 know and understand how to assess the relevant subject and curriculum areas, including statutory assessment requirements  make use of formative and summative assessment to secure pupils' progress  use relevant data to monitor progress, set targets, and plan subsequent lessons  give pupils regular feedback, both orally and through accurate marking, and encourage pupils to respond to the feedback.

Learning to teach in the primary school 2014

Book Core Section 5 provides an overview of formative and summative approaches to assessment in the primary classroom. Unit 5.1, Assessment for Learning: formative approaches, includes sections on questioning, providing effective feedback, and recognising and celebrating children's achievements.

Outstanding formative assessment: culture and practice - Shirley Clarke 20149781471829475

Book Optional You will find Part 2: Lesson culture and structure (pp. 9-150) particularly useful. It includes guidance on effective starts to lessons, questioning and feedback, and delivering effective ends to lessons.

Managing behaviour effectively (Teachers' Standard 7)

11 items

 have clear rules and routines for behaviour in classrooms, and take responsibility for promoting good and courteous behaviour both in classrooms and around the school, in accordance with the school's behaviour policy  have high expectations of behaviour, and establish a framework for discipline with a range of strategies, using praise, sanctions and rewards consistently and fairly  manage classes effectively, using approaches which are appropriate to pupils' needs in order to involve and motivate them  maintain good relationships with pupils, exercise appropriate authority, and act decisively when necessary.

Fulfilling wider professional responsibilities (Teachers' standard 8)

3 items

 make a positive contribution to the wider life and ethos of the school  develop effective professional relationships with colleagues, knowing how and when to draw on advice and specialist support  deploy support staff effectively  take responsibility for improving teaching through appropriate professional development, responding to advice and feedback from colleagues  communicate effectively with parents with regard to pupils' achievements and well-being.

Learning to teach in the primary school 2014

Book Core Unit 8.2, Working together: other adults in the classroom, and unit 8.3, Partnerships with parents, focus on developing key partnerships within and beyond the classroom.

Personal and professional conduct (Teachers' Standards: Part 2)

1 item

Learning to teach in the primary school 2014

Book Core Unit 1.2, Professionalism and trainee teachers, identifies some of the characteristics of professional practice and sets out professional principles underpinning the Teachers' Standards. Unit 1.3, Making the most of your placement, makes some useful links between professionalism and lesson evaluation, and includes a vignette setting out how a trainee's experience in the classroom developed over the course of a PGCE course - your experience will have much in common with this description.

Safeguarding and child protection

3 items

Alternative Education Settings

0 items

General guides to primary teaching

6 items

Professional studies in primary education 20141446280756,1446280764,9781446280768,9781446280751

Book Optional A wide-ranging overview of everything you will need to know to prepare you for initial teacher training and your early career in the primary classroom. Edited by Hilary Cooper. 2nd edition.

Learning and teaching in primary schools - Hayes, Denis 20091844452026,9781844452026

Book Optional A general text that aims to provide the reader with "opportunities to grapple with the complexities that attend systematic teaching and innovative, creative teaching". Edited by Denis Hayes. Part of the Achieving QTS series.
Profile Required
Reading intentions and notes are stored against your user profile. Please create a profile to use this feature.
My notes
You must be logged in to add a note
What are item notes?
You can use item notes to make personal notes on any of your reading items. Notes are private to you and will not be shown to other users.
You can review your item notes from the list, the item page or from your profile page.
---
How do I create an item note?
To make notes, first you must be logged in. Once logged in, simply click Add note? next to the list item you wish to make notes on. You can also make notes at the bottom of every item's detail page.
Your note will be saved automatically as you type.
Have you read this?
You must be logged in to set a reading intention
What are reading intentions?
Setting up reading intentions help you organise your course reading. It makes it easy to scan through your lists and keep track of progress. Here's an example of what they look like: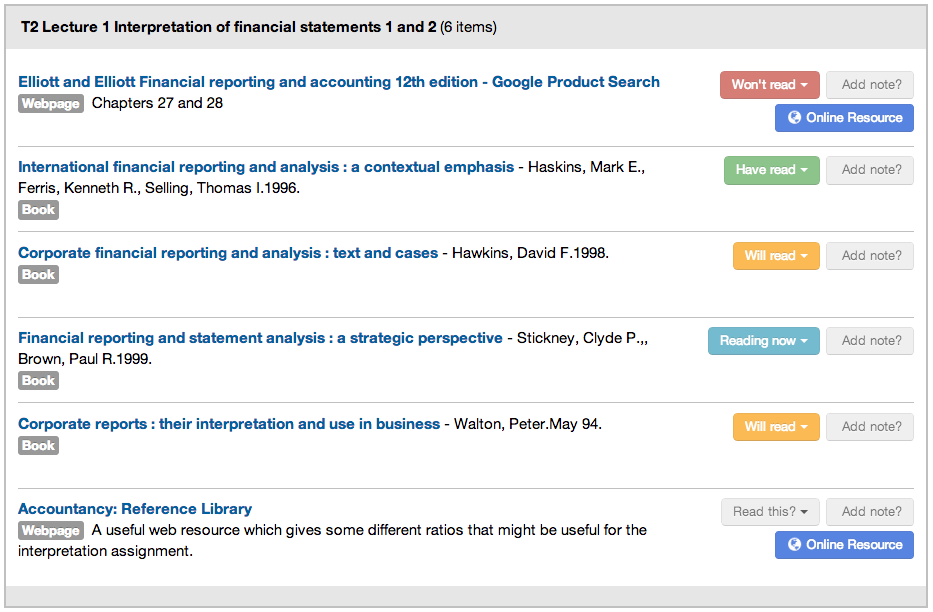 Your reading intentions are also stored in your profile for future reference.
---
How do I set a reading intention
To set a reading intention, first you must be logged in. Once logged in, click Read this? next to the list item you wish to set a reading intention for.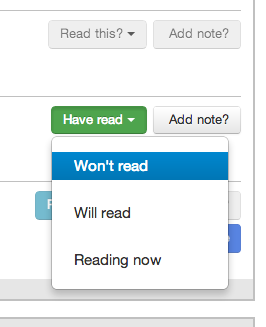 You can also set the reading intention from every item's detail page.